The Problem . . .
Common surfaces are currently cleaned with harmful disinfectants that are not only toxic to the environment, but to the people and surfaces they come in contact with. The problem is these disinfectants provide no residual protection for the surfaces they are applied to. This allows harmful microbes including bacteria, viruses, mold, and mildew to return as soon as the area is finished being disinfected. How many hours are wasted trying to keep up with the never ending spread of harmful microbes throughout your environment? Why just disinfect when you can protect?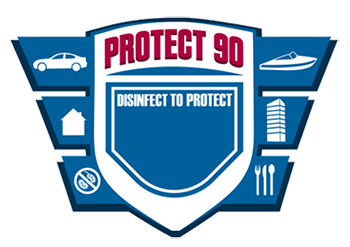 The 90 Day Solution . . .
With the use of SmartTouch™ disinfectant and BioProtect™ disinfectant sealer, having to worry about harmful microbes/viruses growing on the surfaces of your home or business will be a thing of the past. SmartTouch™ is our non-toxic, hospital grade, FDA approved, and EPA Registered (EPA 82972-1-88566) disinfectant that kills microbes in a safe and effective manner. Unlike other disinfectants, our FDA approved and EPA registered (EPA 87583-3) disinfectant sealer, BioProtect™, ensures all surfaces will be protected from more than 99% of these harmful microbes for 90 days. Both SmartTouch™ and BioProtect™ are also USDA approved as Food Contact Surface Safe (FCSS).
Why Us?
Infinity Remediation Services, Inc. is the only master applicator capable of providing the groundbreaking disinfectant technology that is included in SmartTouch™ and BioProtect™. With the help of our certified applicator technicians and electrostatic application systems, we can ensure you that your environment will be disinfected and protected better than ever.  Protect 90 will provide peace of mind for you at work or at home.
SmartTouch™
SmartTouch™ is both EPA (82972-1-88566) and NSF (D-2) registered, allowing it to be safely used on food prep surfaces without worry of potential toxicity or harm.
Efficacy
SmartTouch™ is a hospital grade disinfectant that kills 99.999% of microbes, whereas other leading disinfectants only kill 99.99% of microbes.
Toxicity
It takes roughly 5,000 mg/kg of SmartTouch™ to reach toxic levels compared to 2,000 mg/kg for other leading disinfectant brands, making it 2.5 times less toxic than the leading disinfectant.
Safety
SmartTouch™ is non-corrosive, non-flammable, has a neutral pH balance, and can be diluted unlike other leading disinfectants.
Notable Deterrents

SmartTouch™ has a 30 second kill time on microbes such as E. coli and Staphylococcus aureus, and was shown in testing to be effective against 38 GLP (good laboratory practice) organisms, as opposed to the next leading disinfectant which only protected against 14 GLP organisms.
Applications
SmartTouch™ is highly effective to use on porous and non-porous surfaces areas including, but not limited to, commercial offices, residential homes and apartments, restaurants and bars, schools, etc.
BioProtect™
BioProtect™ is the secondary application that is used to seal the surface once SmartTouch™ is applied. This is what prevents microbes from being able to regrow and spread for 90 days once the surface is completely disinfected.
Efficacy
Once SmartTouch™ is applied, BioProtect™ acts a sealer to ensure that over 99% of microbes are unable to regenerate over the course of 90 days.
Application
BioProtect™ is a non-leaching protector that uses a mechanical kill in order to prevent microbes from regenerating or surviving on the protected surface. The product is colorless, odorless, and works while dry enabling it to remain effective for the duration of the 90 days.
Safety
BioProtect™ is non-corrosive, non-flammable, and does not include any volatile organic compounds, enabling its use on a multitude of surfaces without bringing them harm or damage. BioProtect™ is also approved as a Food Contact Surface Preservative allowing use on cookware made from any material.
Notable Information
BioProtect™ is patented, EPA registered (87583-3), as well as FDA compliant. The product works on surfaces that are, post treatment, submersed in water while being completely safe for humans, pets, and the environment. Absolutely no poisons, toxic chemicals, or heavy metals are used in the makeup of BioProtect™.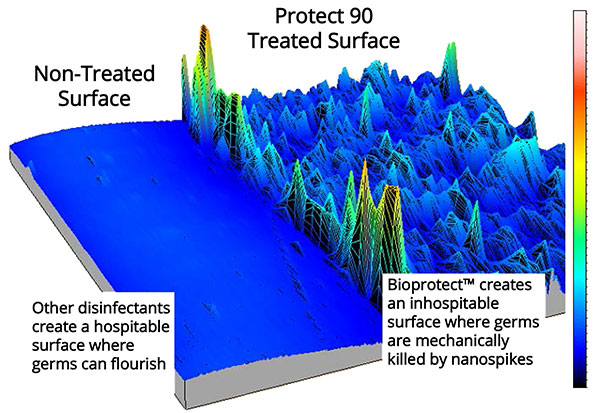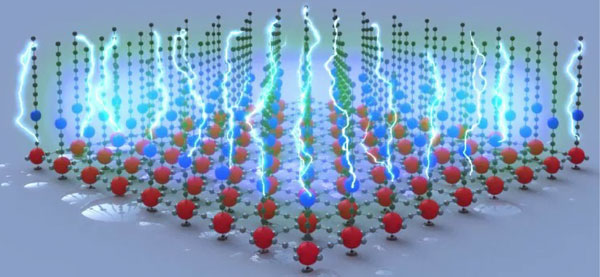 When applied to the surface, BioProtect™ forms a covalent bond with the substrate and creates a microbiostatic antimicrobial coating. This forms the nano-bed shield of carbon nitrogen spikes that attracts negatively charged bacteria. The molecular spikes then pierce and rupture the cell, causing the microorganism to die.
Prior to Us Arriving
Complete required COVID-19 Questionnaire.
Remove pets. Cover or remove plants and electronic devices (computer monitors, keyboards, and mouses are safe) from the areas to be treated.
Ensure that food and paperwork is removed from the immediate area.
Ensure that dirt, dust, debris, etc. is cleared from the area to be treated.
Turn off electronics such as computer, monitors, televisions, etc.
What to Expect During Application
All Infinity Remediation Services, Inc. personnel will be equipped with the proper personal protective equipment (PPE) including respiratory protection, gloves, Tyvek-type suits, etc.
Square footage of the premises floor plan including an average of eight feet up the walls will be documented for treatment.
Common touch points will be identified by Infinity Remediation Services, Inc. personnel within the area to be treated (door/toilet/faucet handles, toilet seats, light switches, telephones, cabinets, etc.)
All surfaces including touch points from the floor to roughly eight feet up the walls, including desks, chairs, and carpets, will be misted with SmartTouch™ disinfectant utilizing our electrostatic application system.
Once SmartTouch™ has dried on each surface in the area, the same steps are completed using BioProtect™ in order to create a 90 day disinfectant seal. This seal will protect applied surfaces from the return and growth of over 99% of dangerous microbes for the duration of this period.
After Application
Allow for 2 hours of dry time to ensure the disinfecting and sealing process has completely dried and taken full effect.
SmartTouch™ and BioProtect™ now cover the surface of your area, without damage to the surfaces.
You may notice a slight residue on surfaces. This is completely normal and can be wiped off with a damp towel if desired.
Your area is now disinfected and protected by the only EPA registered disinfectant and microbial system capable of killing SARS-CoV-2 and other viruses, bacteria, fungi, mold, etc. and maintaining protection for 90 days.
Upon completion of Protect 90 treatment a certificate is issued with a QR code. This QR code can be scanned for information regarding the date of treatment, the expiration date, and a tracking notice for the next application.
Let Infinity Remediation Services, Inc. provide you with the peace of mind that is SmartTouch™ and BioProtect™!